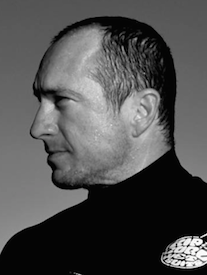 Darin Shapiro
Early Life
Darin Shapiro was born and raised in Fort Lauderdale, FL. Growing up as a waterskier and a trick skier, Darin was instantly hooked on wakeboarding when it was first invented. He was a major influence in the start-up and growth of the sport, inventing many of the first tricks, most notably, the "Raley".

The first ever signature wakeboard was named the "Shapiro Pro Model" by Hyperlite in 1985 and from there Darin would go on to dominate the sport for nearly 20 years and become the winningest wakeboarder in the history of the sport. Over the course of his career, Darin won six X-Games medals (the most of any wakeboarder) which included two gold medals and four silver.

Retirement and Comeback
Darin retired from wakeboarding in 2004 and moved to Hawaii to start a family. Ten years later he would return to Florida with his two children, and after seeing his 5-year-old's fascination in wakeboarding, Darin decided to return to competition after a ten year absence. Fans were amazed that at 40 years old, Darin was still riding at the same level that he was ten years ago. However, due to the increase in talent throughout the industry, Darin was unable to podium in his first year back. Despite being outmatched by the current elite riders, Darin is still, and forever will be, one of the most respected and talented riders in the history of wakeboarding.
2016: Inducted into the Wakeboarding Hall of Fame
4x WWA World Cup Series Overall Champion (1998, 1999, 2000, 2003)
6x Pro Wakeboard Tour Overall Champion (1992, 1993, 1994, 1995, 1997, 2000)
2x X-Games Gold (1998, 2000)
4x X-Games Silver (1997, 1999, 2001, 2002)
4x Masters Champion (1994, 1995, 1997, 1998)
3x WWA World Champion (1992, 1999, 2001)
Record: Most Career Pro Wakeboard Tour Victories - 30
2002 IWWF World Champion
2006: Wake Awards - The Legend Award
1997: First rider to land a double-flip in competition - Speedball (off of a double-up)
1997: First rider to land a double-flip - Speedball (off of a double-up)
Invented 12+ wakeboard tricks (Raley, Speedball, Batwing, Half-Cab Roll, Krypt, Orbital, Roll-to-Revert, S-to-Blind, Tantrum-to-Blind, X-Mobe & more) Click here for trick list.
Season:
| | | | | | | | | | | | | |
| --- | --- | --- | --- | --- | --- | --- | --- | --- | --- | --- | --- | --- |
| 8/24 | Wake Open | T19 | Boat | Orlando, FL | - | - | 3 | 69.33 | - | - | - | - |
| 8/16 | PWT #4 | T13 | Boat | Grand Rapids, MI | 1 | 68.33 | 3 | 76.67 | - | - | - | - |
| 7/26 | WWA Nationals | T19 | Boat | Waco, TX | - | - | 3 | 70.00 | - | - | - | - |
| 7/12 | PWT #3 | T29 | Boat | Monroe, WA | 3 | 66.33 | 5 | 50.33 | - | - | - | - |
| 6/28 | PWT #2 | T13 | Boat | Lathrop, CA | 3 | 65.00 | 2 | 73.33 | 4 | 68.33 | - | - |
| 5/17 | PWT #1 | T9 | Boat | Acworth, GA | 2 | 63.33 | 1 | 63.33 | 3 | 78.00 | - | - |
| 4/27 | Wake Games | T25 | Boat | Orlando, FL | 2 | 75.00 | 5 | 40.00 | - | - | - | - |
| | | | | | | | |
| --- | --- | --- | --- | --- | --- | --- | --- |
| 10/23 | | World Cup | T16 | Boat | Singapore | Mastercraft X-Star | - |
| | | | | | | | |
| --- | --- | --- | --- | --- | --- | --- | --- |
| 11/27 | | World Cup | 5 | Boat | Doha, Qatar | Mastercraft X-Star | - |
| 11/14 | | US Open | | Boat | Kauai, HI | Mastercraft X-Star | - |
| 8/22 | | National Championships | T21 | Boat | Indianapolis, IN | Nautique | - |
| 8/8 | | Wakestock | | Boat | Bali, ON | | - |
| 8/7 | | X-GAMES | 8 | Boat | Los Angeles, CA | Mastercraft X-Star | - |
| 7/10 | | PWT #3 | T17 | Boat | Kelowna, BC | Mastercraft X-Star | - |
| 6/20 | | World Cup | 4 | Boat | France | Mastercraft X-Star | - |
| 6/6 | | PWT #3 | T9 | Boat | Reno, NV | Mastercraft X-Star | - |
| 5/23 | | PWT #2 | T17 | Boat | Fort Worth, TX | Mastercraft X-Star | - |
| 5/2 | | PWT #1 | 7 | Boat | Orlando, FL | Mastercraft X-Star | - |
| | | | | | | | |
| --- | --- | --- | --- | --- | --- | --- | --- |
| 10/5 | | World Championships | | Boat | Orlando, FL | | - |
| 9/14 | | Gravity Games | 4 | Boat | Indianapolis, IN | Nautique | - |
| 8/24 | | National Championships | T13 | Boat | Indianapolis, IN | Nautique | - |
| 7/27 | | PWT #5 | | Boat | Irvine, CA | Mastercraft X-Star | - |
| 7/20 | | Malibu Open | 5 | Boat | Sacramento, CA | Malibu | - |
| 7/13 | | PWT #4 | 6 | Boat | Kelowna, BC | Mastercraft X-Star | - |
| 6/29 | | PWT #3 | 5 | Boat | Portland, OR | Mastercraft X-Star | - |
| 6/8 | | PWT #2 | 5 | Boat | Detroit, MI | Mastercraft X-Star | - |
| 5/25 | | 44th Masters | | Boat | Pine Mountain, GA | Nautique | - |
| 4/27 | | Vans Triple Crown | T9 | Boat | Fort Worth, TX | | - |
| 4/13 | | PWT #1 | T9 | Boat | Orlando, FL | Mastercraft X-Star | - |
| | | | | | | | |
| --- | --- | --- | --- | --- | --- | --- | --- |
| | | World Championships | | Boat | Orlando, FL | | - |
| | | National Championships | 4 | Boat | Fort Worth, TX | | - |
| 8/24 | | X-GAMES | | Boat | Philadelphia, PA | Mastercraft X-Star | - |
| 8/2 | | Gravity Games | | Boat | Cleveland, OH | | - |
| 7/28 | | PWT #6 | 10 | Boat | Irvine, CA | Mastercraft X-Star | - |
| 7/14 | | PWT #5 | 5 | Boat | Kelowna, BC | Mastercraft X-Star | - |
| 7/7 | | Wakestock | | Boat | Thun, Switzerland | | - |
| 6/30 | | PWT #4 | | Boat | Indianapolis, IN | Mastercraft X-Star | - |
| 6/16 | | PWT #3 | | Boat | Detroit, MI | Mastercraft X-Star | - |
| 5/25 | | 43rd Masters | 7 | Boat | Pine Mountain, GA | Nautique | - |
| 5/5 | | PWT #2 | | Boat | Charleston, SC | Mastercraft X-Star | - |
| 4/14 | | Vans Triple Crown | | Boat | Pensacola, FL | | - |
| 4/7 | | PWT #1 | 9 | Boat | Orlando, FL | Mastercraft X-Star | - |
| | | | | | | | |
| --- | --- | --- | --- | --- | --- | --- | --- |
| 9/30 | | World Championships | | Boat | Lake Elsinore, CA | | - |
| 9/3 | | Gravity Games | | Boat | Providence, RI | | - |
| 8/26 | | National Championships | 7 | Boat | Orlando, FL | Nautique | - |
| 8/19 | | X-GAMES | | Boat | Philadelphia, PA | Mastercraft X-Star | - |
| 8/12 | | Wakestock | | Boat | Bala, ON | | - |
| 7/1 | | PWT #5 | | Boat | High Point | Mastercraft X-Star | - |
| 6/24 | | PWT #4 | | Boat | Indianapolis, IN | Mastercraft X-Star | - |
| 6/17 | | PWT #3 | 8 | Boat | Detroit, MI | Mastercraft X-Star | - |
| 6/10 | | Malibu Open | | Boat | Wilmington, IL | Malibu | - |
| 5/27 | | 42nd Masters | | Boat | Pine Mountain, GA | Nautique | - |
| 4/30 | | Vans Triple Crown | 6 | Boat | Pensacola, FL | | - |
| 4/16 | | PWT #2 | | Boat | Orlando, FL | Mastercraft X-Star | - |
| 4/2 | | PWT #1 | | Boat | Fort Lauderdale, FL | Mastercraft X-Star | - |
| | | | | | | | |
| --- | --- | --- | --- | --- | --- | --- | --- |
| 10/8 | | World Championships | | Boat | Lake Elsinore, CA | | - |
| 8/26 | | National Championships | | Boat | Orlando, FL | Nautique | - |
| 8/19 | | X-GAMES | | Boat | San Francisco, CA | Mastercraft X-Star | - |
| 8/13 | | Wakestock | | Boat | Bala, ON | | - |
| 8/6 | | Japan Event | | Boat | Japan | | - |
| 7/1 | | PWT #8 | T11 | Boat | Abbortsford, BC | Mastercraft X-Star | - |
| 7/18 | | Gravity Games | | Boat | Providence, RI | Supra | - |
| 7/16 | | PWT #7 | | Boat | Portland, OR | Mastercraft X-Star | - |
| 6/25 | | US Open | 9 | Boat | Sacramento, CA | | - |
| 6/18 | | PWT #6 | 5 | Boat | Detroit, MI | Mastercraft X-Star | - |
| 6/18 | | PWT #5 | | Boat | Hartford, CT | Mastercraft X-Star | - |
| 6/4 | | PWT #4 | T11 | Boat | Oklahoma City, OK | Mastercraft X-Star | - |
| 5/28 | | 41st Masters | | Boat | Pine Mountain, GA | Nautique | - |
| 4/21 | | PWT #3 | 5 | Boat | Greenville, SC | Mastercraft X-Star | - |
| 4/30 | | Vans Triple Crown | 5 | Boat | Pensacola, FL | | - |
| 4/16 | | PWT #2 | | Boat | Fort Lauderdale, FL | Mastercraft X-Star | - |
| 4/2 | | PWT #1 | 4 | Boat | Orlando, FL | Mastercraft X-Star | - |
VIDEOS OF DARIN SHAPIRO
| | |
| --- | --- |
| Darin and Kien | via WakeWorld, 11.9.15 |
| | |
| --- | --- |
| RUNA Clean Energy | via Darin Shapiro, 5.20.15 |
| | |
| --- | --- |
| RESURGENCE | via Sidewayz Films, 10.15.14 |
| | |
| --- | --- |
| Darin Shapiro | via WakeWorld, 9.18.14 |
| | |
| --- | --- |
| Triple-Flip Attempt | via Darin Shapiro, 2004 |
| | |
| --- | --- |
| 12 Honkeys | Darin Shapiro | via Sidewayz Films, 1999 |
| | |
| --- | --- |
| Darin Shapiro in "Shaft" | via WHOF, 1999 |
| | |
| --- | --- |
| 1st Place Run | '99 Worlds | via Ryan Shimabukuro, 10.10.99 |
| | |
| --- | --- |
| Speedball Wipeout | via Darin Shapiro, 1998 |
| | |
| --- | --- |
| Six Pack 1997/98 | via Sidewayz Films, 1997 |
| | |
| --- | --- |
| 2nd Place Run | '97 US Open | via Ryan Shimabukuro, 6.22.97 |
| | |
| --- | --- |
| New World Record | via WHOF, 1995 |
| | |
| --- | --- |
| THE "SCUD" | via WakeboardingMag, 1994 |
| | |
| --- | --- |
| Unbelievable Crash Recovery | via Ryan Shimabukuro, 1992 |